Quick Navigation:
Custom bronze portraits for all occasions. Dates to remember for custom portrait sculptures as gifts this year :

| | |
| --- | --- |
| Valentine's Day | Feb 14 |
| President's Day | Feb 15 |
| Secretary's Day | Apr 21 |
| Mother's Day | May 9 |
| Father's Day | Jun 20 |
| Father-in-law's Day | July 30 |
| Grandparents' Day | Sep 12 |
| Bosses' Day | Oct 15 |
| Mother-in-law's Day | Oct 24 |
| Veteran's Day | Nov 11 |
| Thanksgiving Day | Nov 25 |
| Christmas Day | Dec 25 |

Custom clay portrait sculpture busts and personalized miniature clay busts are also excellent choices as Birthday, Anniversary, Engagement, Wedding and Baby Shower gifts.

Examples of commissioned portrait bust as corporate gift/ awards:
Employee wedding or new born gifts
Retirement gifts
Commemorate founder or president
Custom corporate award
Custom trophy for a job well done, quality award
Custom present to corporate clients
Repatriation gift
Long service award or recognition for highest level of professional achievements
Example of Product Partnership: Company A had an idea of a brand new product, which was one of its kind in the market.
They approached JustPortraits to provide the critical part of the product, which is portrait bust with high likeness.
Both parties signed NDA and agreement wtih exclusivities. We worked together as an active partner, bouncing ideas and completed prototype.
Custom Bronze Bust (Resin with Bronze Effecct)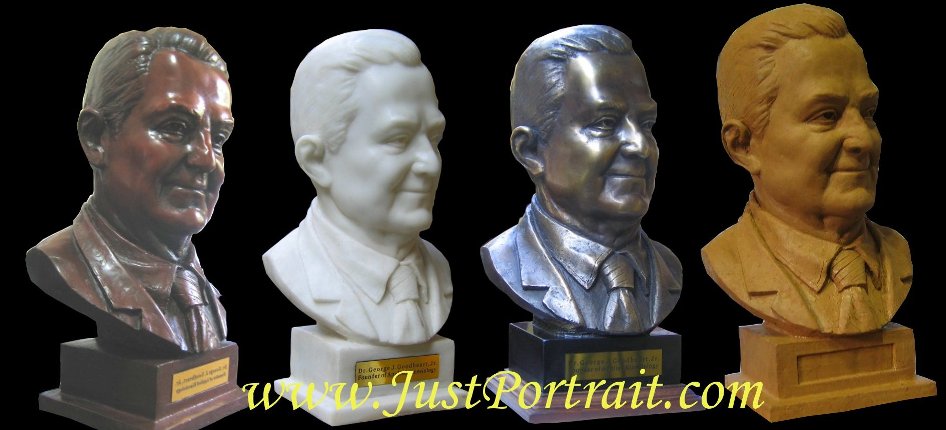 Custom made and personalized high quality and affordable portrait sculptures commissions. Tell us more about the subject of your custom clay portraits or bronze portrait sculptures. Our work is based purely on your inputs, clear photos are a must for us to start. Refer to the guideline for photo selection.



Commissioned clay busts or bronze portrait sculptures have traditionally been associated with high prices. Most sculptors also require a few live sittings to complete the work. We only need need a few refence photos to create affordable, fine art quality custom busts!
QuickSculpt

and

FineSculpt

clay bust (portrait sculptures) are offered in different sizes and options to suit your needs.

We work with direct customers, resellers or partners. Typically, our partners have great ideas but missing a critical component: portrait busts of high likeness, to complete the product concept. If you have been looking for such a product, you know very well that high likeness is not likely in the affordable price range.

Two main choices of styles are available, smooth life-like or artistic touches. Illustrated on the left is an example of realistic style custom bust, and we accept other types of finishing, do discuss on your specific liking. Please check out custom portrait sculptures gallery for more detailed views.
FineSculpt Hall of Fame Custom Bronze Bust (Resin Option)

With
FineSculpt
, we refine the portrait sculptures further to more than 95% likeness. No casting will start until you are 100% satisfied with the original clay portrait.
Custom 3D Digital Busts (from pictures)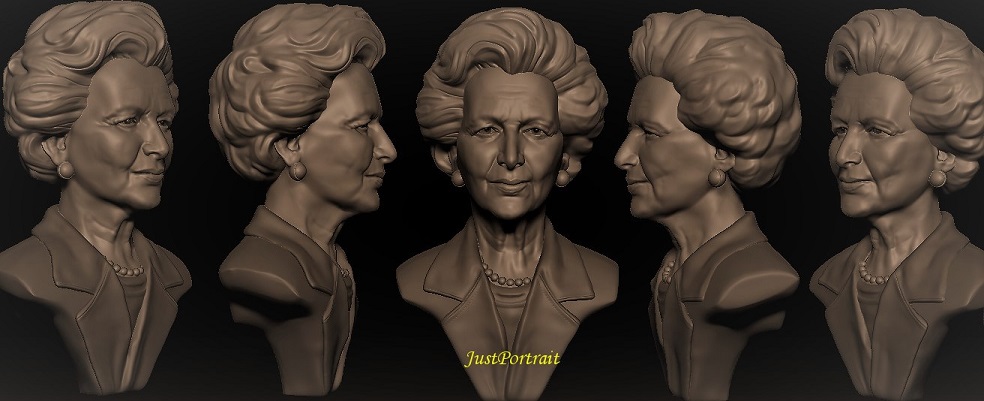 We are excited to introduce another option for custom busts, using digital sculpting techniques. Digital printers are getting popular nowadays, and we can deliver 3D files for you to print at any size. This is a custom bust of Margaret Thatcher, a recent private commission.

Alternatively, we can also deliver the final product in either resin or bronze. We will print the bust and create the mold and cast it in the material of choice.


Pricing for FineSulpt Bronze Custom Portraits (Faux Bronze Busts)
Our prices are highly competitive for the quality we deliver.
FineSculpt Custom Bronze Bust:


Life size, 18" (46cm)
Price: USD3900
Life size or larger than life sizes
Smallest available size is 15"
Complimentary plaque

FineSculpt Custom Resin Bust:


Bronze finishing
Estimated Height: 18" (46cm)
Price: USD 2260
15/13" option available
Complimentary plaque
Note:
Price in US Dollar. Click here for up-to-date current conversion rate.
Send us photos for free consultation. Example of ideal reference photos for high likeness
Attractive discounts for second order

Price confirmed by email
Final confirmation of clay portraits before casing to fiberglass resin
Typical leadtime for bronze bust is 8-10 weeks, rush order is possible within 4 weeks. Surcharge applied.
QuickSculpt Custom Portrait Bust ( Resin Only)

With unique
QuickSculpt
method, we are able to create quality clay portraits with high likeness in short time, making our custom portrait sculptures very affordable.We are able to achieve an estimated 90% likeness in about an hour, making it very affordable. Only resin mateial and small sizes are offered in this series
| | |
| --- | --- |
| | Picture on the left shows the same portrait bust before and after casting. Original clay bust sculpture is molded and casted into fiberglass resin and bronze. Faux bronze finishing is then applied on the resin. Mold making process is non-destructive, and multiple copies can be fabricated in short time. |
Pricing for QuickSculpt Custom Bust

Small Size: 8" (20cm)
Price: USD 690
Medium Size: 10" (25cm)
Price : USD 880
---
Order Custom Portrait Busts

Click here if you would like to
order custom bust portrait sculpture
.